To describe the versatile personality of Arvind Limbavali in simple words, he is the favourite representative of Mahadevapura Constituency and youth leader of Karnataka.
A smiling personality; yet a "true leader of the people" who can bring radical changes through his strong words.
To the dignitaries of the society – A patriot who deeply respects the Indian culture, Tradition and Heritage.
To the party workers – Arvind Limbavali is a politician with top notch organizing skills
To the Karnataka people- A kind hearted statesman who rushed to help the people.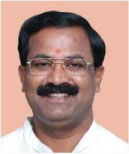 Top notch organizer, True Leader, A kind hearted statesman
He is a care taking man from next door in the Mahadevapura assembly constituency. He just stands still and listens the problems, issues and concerns of people carefully. This distinct character of Shri Arvind Limbavali has made him a good public servant. He has acquired these finer qualities from student days. Arvind Limbavali started his social activity as RSS worker in 70s and consequently as a student leader in ABVP in the early 80s. He was ABVP state joint secretary for six years from 1986. In 1987 he was convener of Karnataka State Polytechnic Action Committee to fight against the problems of polytechnic education.read more...
My Vision
The purpose of my life is to engage in continuous public service for all the society's prosperity.
My Mission
My goal is to achieve the full potential in the Mahadevapura Assembly in Karnataka, to gain the highest position in the world. It is my communal responsibility to maintain my responsibility with diligence and efficiency.