Obstacles by Congress
Congress government did not provide justice to your tax money
The present Congress state government is showing step-motherly attitude towards Mahadevapura assembly constituency which is marching towards overall progress. The state government has deliberately ignored the developmental works of Mahadevapura.. Some of the development works that were approved by the previous BJP government are purposely delayed and ignored by the present Congress government thus doing injustice to the people of Mahadevapura. Some of the below mentioned works that were previously approved by the then BJP government haven't been started by Congress till date.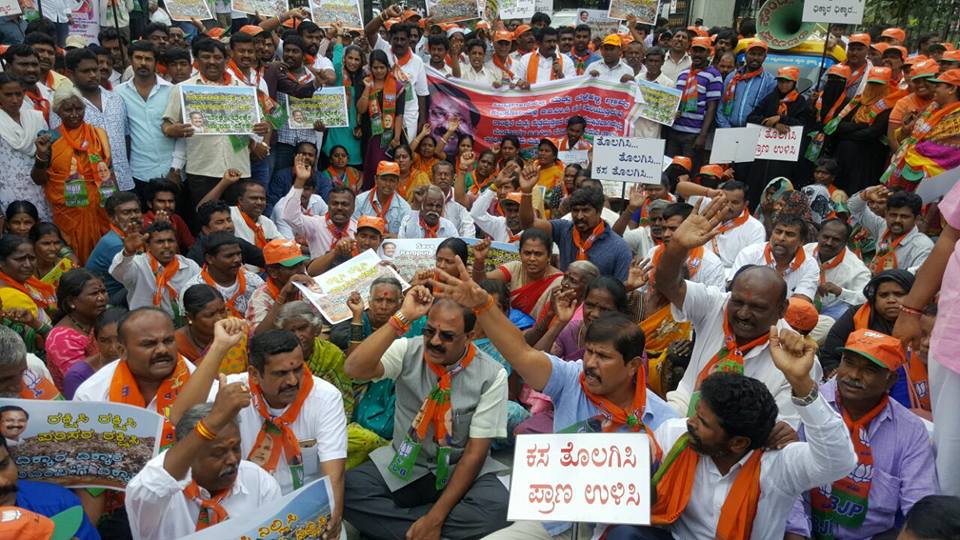 More tax, less grants
Among other assembly constituencies in BBMP limits Mahadevapura stands first in terms of tax collection. Since 2013-14 till now, Mahadevapura residents have paid Rs 1750 crore, they have paid even more to State government treasury in other forms of other taxes. But in return, government contribution towards development of Mahadevapura is quite low. Many development works are suffering owing to this. On the other hand, more grants were given to the neighbouring MLA Assembly constituencies. We had staged protest against state government against this discrimination in allotting grants.
Obstruction to signal free corridor
Two signal free corridors including Bayyappanahalli to NH 208 on Channasandra and Old airport to NH 4 were approved during BJP led State government. Although the present CM inaugurated the project four years back, deliberately work is going on at snail's pace.
Government's complete failure in garbage management.. unending woes..
After fierce protest, garbage dumping at Mandur is stopped. Although the present State government had assured to clear the un-cleared garbage at landfill site within a year's time, measure hasn't been taken even after four years of assurance.
After protest, the state government sought three months' time to stop garbage dumbing at Mettiganahalli waste processing units, but unfortunately even today it has not stopped. Government has not provided land for the waste processing unit in the constituency despite repeated requests.
Neglected the development of polluted lakes, ignored court order
Inspite of National Green Tribunal directing State government to develop Bellandur and Varthur lakes at the earliest, no action has been taken by the Government so far nor have they utilized the Union government funds.
The Rampura Lake is also getting polluted like Bellandur Lake. But State government has not taken any action to protect it. Despite the pressure to develop a few more lakes in Mahadevapura constituency, state government is paying deaf ears to our plea and is concentrating on the development of only a few lakes.
Primary health centers yet to see the light of the day
Primary health centre at Bidarahalli was approved long back, but work is not yet commenced as the revenue department is not giving any land for the same. Primary centres at Kodathi, Halanayakanahalli and Mandur are ready, but have not been inaugurated yet. I, in the interest of the public, therefore interfered and opened these centres to public. Primary health centres at Marathahalli and Kannur are ready for operation.
Government's indifference to give land to hospital
Grants to construct 100 bed hospitals at Siddapura has been approved. Government is delaying in handing over the land from BMTC to Health department.
Protected government land lay unutilized.. no curbing of encroachment
When I became MLA for the first term, we were successful in regaining more than 270 acres of encroached government land and were reserved for public works. Some of them are:
* Survey number 104 at Gunjur village, where 27.04 acres was reserved to construct international stadium. But State government has not allotted any grants to sports department. Thus, the constituency is deprived of having a stadium of International standard.
Two acres was allotted to construct open theatre and four acres to construct Vemana International conventional centre at Doddakannalli village, but funds are not released from the government.
* When BJP was in government, construction of houses from BDA was started at Gunjur village ; This apart, construction of 500 houses at Kodathi village were taken up under BSY scheme but due to government's negligence, none of these projects is completed so far.
* At Mahadevapura, many of the storm water drains, government lands and lakes are encroached. We are demanding State government to carry out the survey and clear the encroachment, but the state government is not paying heed to my request.
Obstacles to develop road, flyover, bridge, new market..
Eastern airport approach road should have opened for public as a major connecting road of Mahadevapura. As the Government is ignoring it, the work has not started.
No grant is given by either State government or BBMP for construction of railway over bridge and railway under bridge to reduce traffic congestion. Although we have demanded additional vents at Panathur and Doddanekkundi, action is not taken.
It was proposed to construct bus station in the existing market area at Varthur by shifting market to different location. But government has exhibited its sheer irresponsibility by not handing over the land to the said purpose.
Government's disinterest to college building, international stadium!
Two acres land was sanctioned for construction of government first Grade College. As funds not released, work has not been started. Students have been facing difficulty for the last four years.
Despite repeated pressure to develop playgrounds at Hoody and Varthur, government not showing interest.
Inauguration cancelled: After printing invitation cards for inauguration of Polytechnic at Immadihalli and First Grade College at Varthur, government deliberately cancelled the event. However, we have opened them and made them functional for the benefit of students. Similar is the story with Mandur bus depot. It was not formally inaugurated, but now we opened it for public convenience.
No grants for digital library
A new digital library has been constructed at Thubarahalli, but with no grants from state govt library is not functional.
Congress talks social justice, but practices injustice
Social Welfare Department has stopped giving grants to developing colonies for the poor thus depriving thousands of families in availing social justice.
When BJP was in power, apartment complex was constructed by Karnataka State Slum Board and the same was allotted to beneficiaries at Sadaramangala, Varthur and Channasandra. However, at Marathahalli and Soolikunte, though land was handed over to Karnataka Slum Board and building has been constructed, it has not yet been allotted to the needy.
Water supply to villages after many efforts
Out of 110 villages that were added to BBMP in 2007, 31 villages comes under Mahadevapura assembly constituency. In order to get Cauvery water supply to these villages, I met the Union Urban Development Minister along with our MP and got the approval for the same with great difficulty. Kaveri pipeline laying work has just begun.